"From 27 to 51: Recovery of modernity"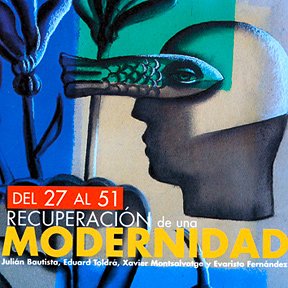 Works of Julián Bautista, Eduardo Toldrá, Xavier Montsalvatge and Evaristo Fernández Blanco.
Belén Genicio ( Soprano), Juan Carlos Segura (piano), Francisco Antonio García (clarinete); Carmen Esteban (piano), Trío Salduie.
Coda Out COUT 2025
Recorded at Sala Luis Galve del Auditorio de Zaragoza, 2006
When we started this project we undertook a search of the Spanish Musical Heritage exists in this period. Some works were known but rarely played and others, however, quite unknown. While some composers of that generation are well known, part of his repertoire is not regularly scheduled for various reasons: start of the Spanish Civil War, the sharp break with the musical environment, disappearance of scores over the spoils of the war, emigration to Europe and Latin America, non-publication of some of the works; deaccessioning of other previously published, and so on. This recording attempts, first, give an example of a repertoire of high quality usually is not interpreted and, secondly, to honor a lost generation in Spanish music, as due to civil war could not exert the influence it deserved.
"The care of the performers, almost to the mime, and his perfect delineation of the personality of the individual authors, makes this album a testament to a time still unexplored, and it is hoped that this work will be an example." Melómano Magazine, No. 121, June 2007
"Francisco Antonio Garcia and Carmen Esteban get with the" Sonnets "of Toldrá and" Self-Paraphrase "by Xavier Montsalvatge some of the most beautiful and expressive of this program." Juan Antonio Gordon. Arts & Letters. Heraldo de Aragon. December 2006
"From 27 to 51: Recovery of modernity"
- Tres Ciudades (F. García Lorca).
Julián Bautista
(Malagueña, Barrio de Córdoba, Baile)
- Cantarcillo (L. de Vega).
- Madre, unos ojuelos vi (L. de Vega).
Eduardo Toldrá
Sonetos.
Xavier Montsalvatge
* Oració al Maig
* Soneti de la Rosada
* Ave Maria
Trío (1986/1988).
I. Balada a Dulcinea
II. Diálogo con Mompou
III. Ritornelo
Trío en Do (1927).
I. Alegremente vivo é molto ritmico
II. Moderato
III. Alegremente vivo é molto ritmico